Make it a Party with Mint Julep Cups!
Whether you're prepping for the Kentucky Derby (or Derby Day, as some call it), or just looking for something a little different from the usual suspects in wedding and centerpiece decor, silver colored
mint julep cups
can be the traditional choice or a pleasant surprise. They're sure to complete the look, regardless of what you're trying to achieve. Trust me on this one.
History and Traditions of the Churchill Downs and the Kentucky Derby
There are a lot of
places online
that'll tell you extensively about the
history of the silver mint julep cup
. The mint julep is a classic, American cocktail invented in the south (most likely in Virginia). You might have seen classic films like
Gone With the Wind, featuring the Clark Gable enjoying the famous drink
. It is a simple concoction that fuses bourbon, sugar, ice, and mint, and tradition requires that it be served in real silver cups so that ice frost can form around the outside of the cup, keeping the drink cool. The design allows the user to hold the cup on either the brim or the base, so that the hand does not melt the ice or warm the drink. The earliest historical mention of the drink can be found in
Travels of Four Years and a Half in the United States: 1798-1802,
by John Davis.
Several decades later, Churchill Downs was built, and when they began selling souvenir silver julep cups, the mint julep quickly became an American symbol for what some people consider the most exciting two minutes in sports: the Kentucy Derby. To this day, the continue to sell commemorative glasses every year during the event. But those with high hopes and money to spend might drop
$1,000 for the annual special edition silver and gold cups
for Derby Day.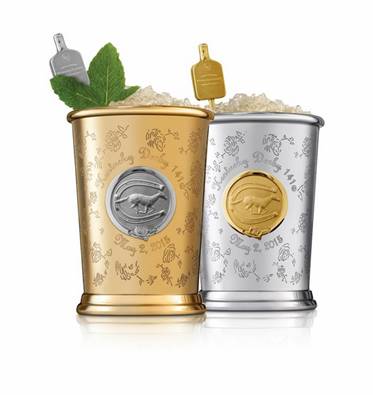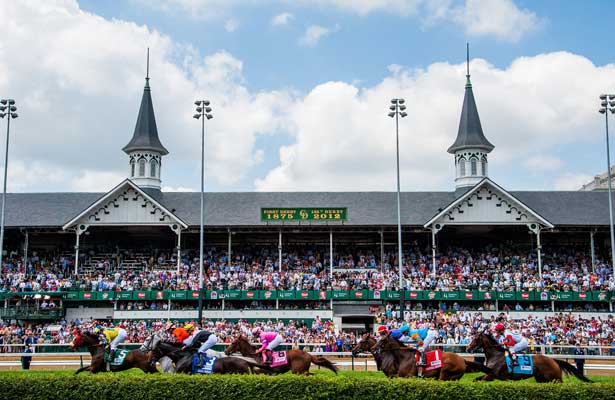 Some speculate the word "
julep
" comes from
the Persian word gulab and the Arab word julab, which refer to water mixed with rose petals, also known as "rosewater"
. Julep also used to refer to sweet drinks taken with medicine to help those with difficultly swallowing or with upset stomachs. Now it is a famously simple, yet often remixed, whiskey-based drink, and not all bartenders or cocktail experts agree on how one should go about preparing it.
There are many recipies to be found in the vast space of the internet (
here is a simple one; or you can try this one
). Some argue about whether adding fruit to the mint julep recipe is acceptable or not. In a
century old American Recipe book
, the author suggests adding
a single piece or slice of fruit to the drink
. But from a more recent article from The Atlantic, it is suggested that one should not
"over-garnish"
out of respect for the tradition of the mint julep.
But regardless of how you like your mint julep cocktail, traditions are flexible and ever changing. Vase Market's
julep cups are not made of real silver
, but that is precisely why they make a better alternative. If you're willing to break from tradition, you'll find that our aluminum julep cups are the more practical and economical way to go. A real silver 4" mint julep cup with the same design as the one we offer (which can hold about 9 fluid oz) can cost around $50 a piece. But
our
aluminum julep cups can cost as low as
$6.80 each in a pack of 4
. At least they're certainly more affordable than the commemorative $1,000 Derby Day Silver Mint Julep Cup. Furthermore,
scientifically
, aluminum is also a better choice than silver because it has lower thermal conductivity. In other words, aluminum is less likely to conduct heat, making it perferable to silver as the choice container for a soothing chilled cocktail on a hot summer day (which Derby Day is likely to be).
Beyond the Mint Julep Cocktail
Given that we offer cheaper, more afforable mint julep cups, there are of course a variety of ways to use our cups beyond the traditional annual cocktail. In fact, we highly recommend
these alternative uses
.
If you're a traditionalist intent on keeping your vintage silver mint julep cups for your Derby Day, you can still maintain the theme by using our aluminium mint julep cups as centerpiece vases. They make preparing the Derby Day party an affordable event that is sure to stay in budget, giving you more to spend on quality ingredients for your cocktails. But even if you weren't preparing for Derby Day, these matte silver mint julep cups still work wonderfully for weddings and other special events. They can also make classy additions to you offices as pen holders, and they can make sweet little gifts for your colleagues.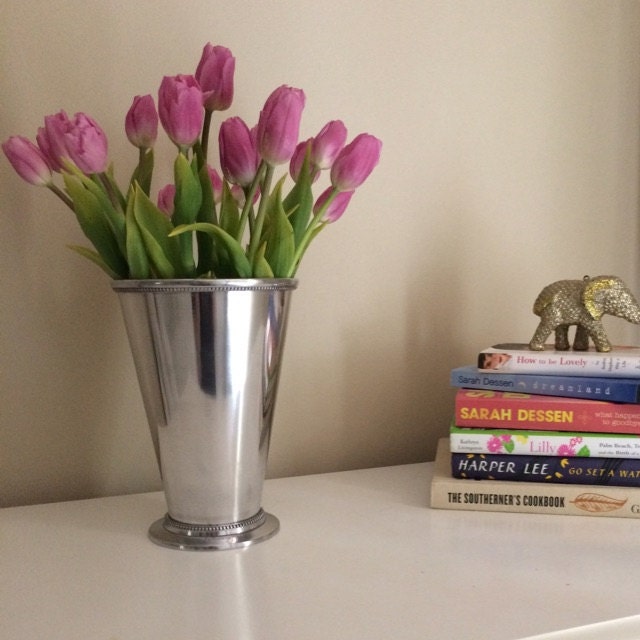 ---
We hope you enjoyed our newest post!
If you like what you see, and you wanna see more, be sure to check us out on
Yelp
,
Facebook
,
Wedding Wire
,
Pinterest
, and
Instagram
for more info! You might even stumble upon
special offers
and
coupon codes
!

---
Be sure to check out some of our most popular vases! This week's highlight:
TRUMPET VASES
and
CLARINET VASES
.
---
Vase Market is a wedding vase and home decor wholesaler from City of Industry, California servicing weddings and events throughout the local area, including Los Angeles, Orange County, and San Diego, as well as throughout the United States. Vase Market is a professional direct importer that has been part of the Southern California glassware industry since 1998 specializing in high-end glassware.